2022 Vision Board Virtual Workshop: Limited Space! Register by 7am January 8, 2022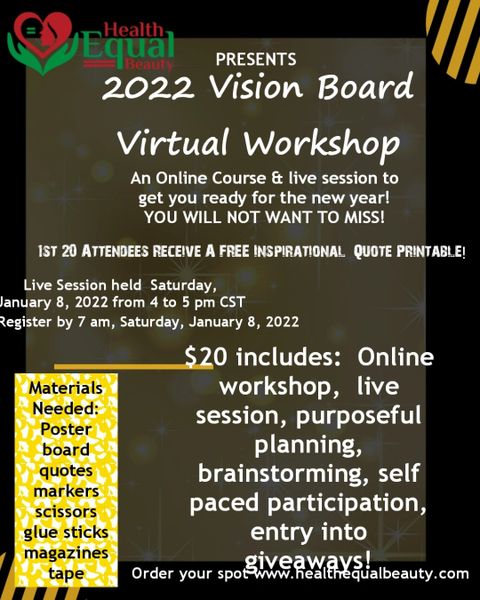 2022 Vision Board Virtual Workshop: Limited Space! Register by 7am January 8, 2022
This a Virtual Workshop that you do not want to miss!
FIRST 20 Enrollees will receive a FREE Downloadable Quote printable via email that you can print and use for your boad!
Bring in the new year with this Virtual Vision Board Workshop. This is an online self paced course that will take place on Saturday, January 8, from 4 -5 pm Central Standard time.
In this course you will create your very own Vision board to set your goals in motion for the upcoming year. One hour of guided and collaborative discussion of goals, mindset, and much more! This power brainstorming and working session will leave you inspired and ready to crush all of the goals you have before you. If you have never created a Vision board before, no worries, you do not need any experience! Just come with a positive mindset and the supplies you need to complete your board. This workshop will be one that you will be happy you attended!
DETAILS:
1. This class will take place via Zoom ( The link will arrive 2-3 days before the workshop session via email and via the Virtual classroom that you will be enrolled in. 
2. You will have access to a virtual classroom in which you can participate in before the session as well as after!
3. You will receive confirmation of your order via as with any of our products or services.
4. Supplies: Poster board, glue stick, tape, quotes, magazines, post it notes (optional), markers, pens, paper, or notebook, laptop, webcam, microphone to access the content.
5. Register by 7 am , Saturday, January 8, 2022 to receive the link and access to the Virtual classroom!
This event will be amazing, and will include music, conversation, inspiration, motivation, beauty and wellness tips, giveaways!
Reviews