Dead Sea Mud Shea Butter Soap 5oz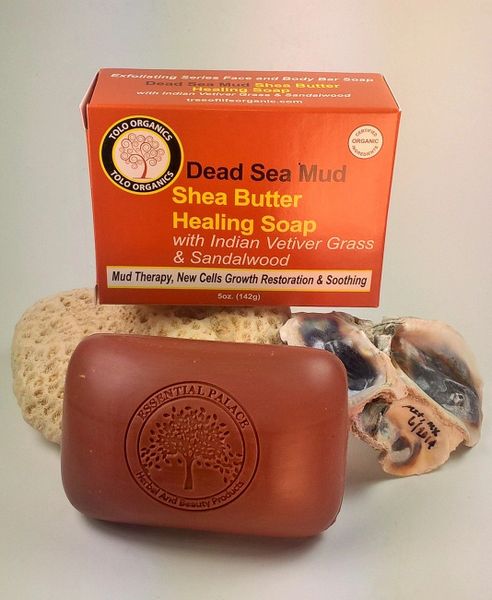 Dead Sea Mud Shea Butter Soap 5oz
Dead Sea Mud Shea Butter with Indian Vetiver Grass & Sandalwood
This face & body bar is enriched with natural and organic ingredients to retain skin moisture all day long
Benefits:  Soothing, Restorative, Mud therapy. This soap combines the best natural oils and butters and other nutrient rich natural ingredients. Actual Dead Sea Mud used in this soap provides powerful healing effects on skin through its natural minerals and nutrient rich contents. Shea Butter helps retain hydration, moisture, and helps protect skin from damaging UV. Coconut oil in the soap helps prevent dryness and flaking of the skin. Abrasive power of Oat meal used as natural exfoliating material helps scrub away dead skin cells with soap lather, so that new rejuvenating cells can grow. All these various qualities make it a true healing soap aiming for vibrant and younger skin.
Aroma: Its celestial, magic scent is a combination of luxurious sandalwood and warm vetiver grass.
Ingredients: Pure Dead Sea Mud (which contains more than 35 minerals), Organic Shea Butter, Coconut Oil, White Oat Meal, Palm Oil, Sodium Palm Kernalate and/or Sodium Cocoate, Olive Oil, Glycerin, Sodium Chloride, EDTA, Water, Fragrances, micro abrasive exfoliating materials of plant origin and FDA colorants..

Reviews
Featured Products