All Natural Male Grooming Kit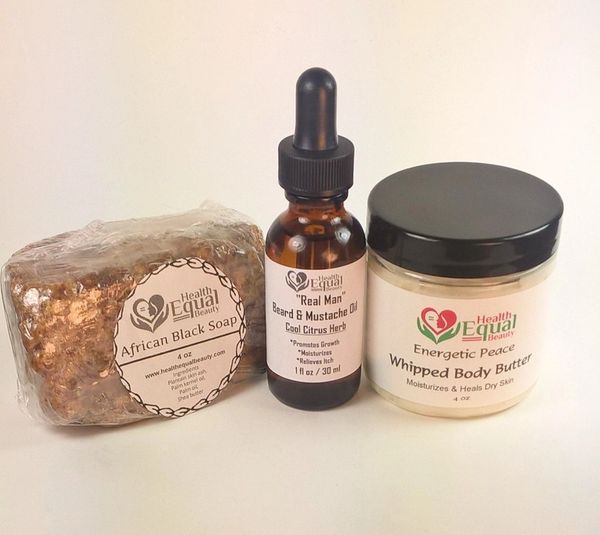 All Natural Male Grooming Kit
Your "All Natural" Grooming kit! Complete with African Black Soap, Beard & Hair Oil, and Energetic Peace Whipped body butter.
The African Black soap can be used as a shaving soap that is packed with moisturizing ingredients to prevent and minimize razor bumps. This all natural soap is chemical free and used often for those dealing with acne, eczema, or sensitive skin. Take care of the skin on your face by using an all natural soap free of chemicals! This soap can also be used all over the body and as a shampoo. It is a wonderful degreaser!
The Beard & Hair oil is sure to keep your beard soft and manageable while the vitamin and nutrient rich oils and essential oils in it are sure to leave your skin underneath healthy. The hair and beard oil can be used on those dealing with dandruff and itchy scalps, it is also great for an added bit of shine to your hair or beard. Use just 5-7 drops as needed to your beard and notice a significant change. This bottle should last from 6-8 weeks!
The handmade whipped body butter is an all over moisturizer and can also be used as an aftershave. It is loaded with nutrient rich Shea butter, coconut oil, olive oil, avocado oil and pure essential oils that will the your skin feeling moisturized without a greasy feel. Once applied it simple absorbs into your skin leaving it smooth and completely moisturized. This product can be used for a long time since a little goes a long way.
Reviews