Honey Aloe Leave In Conditioner 5 oz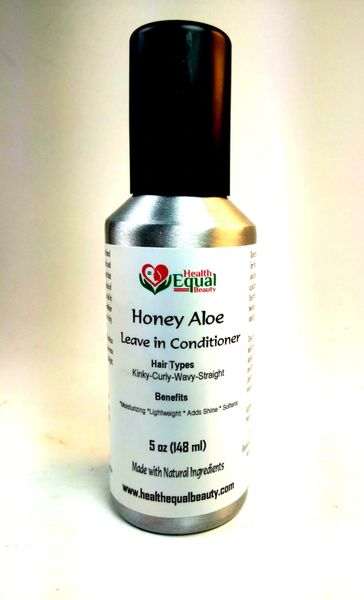 Honey Aloe Leave In Conditioner 5 oz
Our Highly anticipated Honey Aloe Leave In Conditioner is here!
Pamper your hair with this blend of nutrient rich plant oils and natural vegetable ingredients that give your hair a dose of revitalizing moisture to aid in keeping hair conditioned whether wet or dry. This product is enhanced with ingredients that help to retain moisture into the hair and keeps the scalp conditioned and not as dry.
The refreshing aroma will entice your senses and provide aroma delight!
Benefits: 
Moisturizing
Lightweight
Adds Shine
Softens
Hair Types:
Kinky, Curly, Wavy, & Straight
Directions:
For Hair: Apply to wet or dry hair and style as usual. Use as a conditioner.
Can be applied to hair that has been braided, twisted, locs, natural hair, and straight hair textures
This conditioner can act as a daily refresher for curls or styles that need added moisture and lightweight protectant from daily combing, brushing , and manipulation. 
This product is lightweight & does not a leave the hair greasy.
Ingredients: Aqua, Vegetable Glycerin, Aloe Vera Juice, Argan Oil, Avocado Oil, Botanical extracts, Natural Fragrance
Reviews