Avocado Butter Shea Butter Soap 5 oz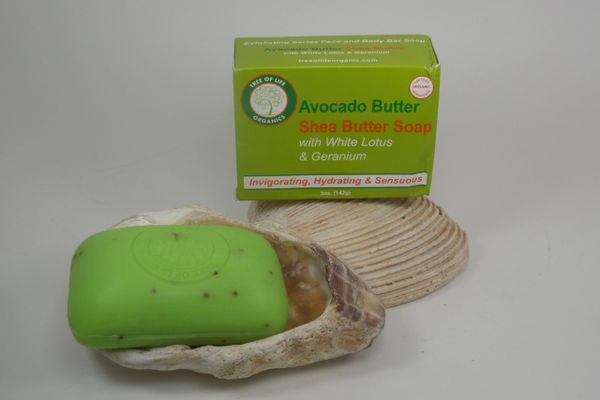 Avocado Butter Shea Butter Soap 5 oz
Avocado Butter Shea Butter with White Lotus & Geranium
This face & body bar is enriched with natural and organic ingredients to retain skin moisture all day long
Benefits:  This soap combines the best natural oils and butters. Avocado butter is known as a natural sunscreen with other rich nutritious properties, used in the soap to revitalize skin. Coconut oil in the soap helps prevent dryness and flaking of the skin, protecting it from negative environmental effects. Raspberry seeds in the soap are used as an exfoliating material to naturally wash away dead skin cells. so that new rejuvenating cells can grow. All these various functions of this soap are to help skin look vibrant and younger.
Aroma: White lotus fragrance is obtained from the soft young petal or pre dawn flower blossom. Mind soothing Geranium flower scent provides an uplifting and transcendental feel. The scent is a reminder of a cool serenity of a forest lake blanketed with Lotus flowers.
Ingredients: Organic Avocado butter, Organic Shea butter (Butyrospermum parkii), Coconut oil (Nucifera cocos), Palm oil, Sodium Palm Kernelate and or Sodium Cocoate, Olive oil, Glyverin, Sodium chloride, Water, EDTA, Fragrances, Raspberry seeds (micro abrasive exfoliating materials of plant orgin) and FDA colorants.

Reviews