DIY African Black Soap Liquid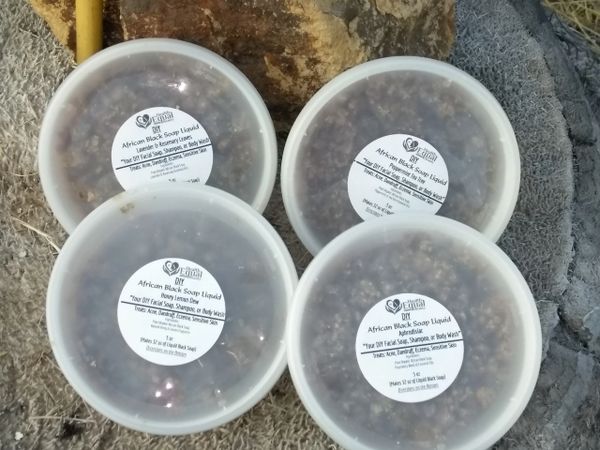 DIY African Black Soap Liquid

This product is a unique twist on DIY!
African Black Soap is one of the most effective cleansers! Pure natural and organic this soap is a must have for those dealing with skin concerns such as acne, eczema, and sensitive skin.
This DIY mix is enough to make 32 oz of liquid African Black Soap. It comes in 4 great aromas to suit your senses and to pinpoint the skin issues. Choose the one that is most suitable for you whether for the medicinal pleasure or the aromatic pleasure!
***Directions on the bottom of each container.
1. Lavender Rosemary Leaves is enhanced with a combination of effective essential oils that are medicinal and healing. The Lavender helps to fight scarring while also calming and the Rosemary is an effective astringent and toner as well as promotes hair growth.
2. Peppermint Tea Tree is enhanced with a combination of healing essential oils that are both medicinal and healing. The Peppermint stimulates and cools while also providing uplifting benefits. The Tea Tree oils is one of the most effective anti-fungal natural healing oils that treats acne, athlete's foot, and other unknown bacteria lurking on our precious skin.
3. Aphrodisiac is enhanced with a proprietary blend of essential oils that are often known to stimulate the libido or create a sense of euphoria. This blend is great for someone looking for a natural and sensual combination of calming stimulating oils while cleansing. 
4. Honey Lemon Dew is enhanced with a fresh burst of fresh honeydew and lemon that uplift and refreshes at the same time. It is a fragrance suitable for the entire family. Great for shampooing or simply cleansing. 
Ingredients: African Black Soap, Proprietary blend of natural fragrances and Essential oils.
Reviews