Indian Chai Tea Sugar Scrub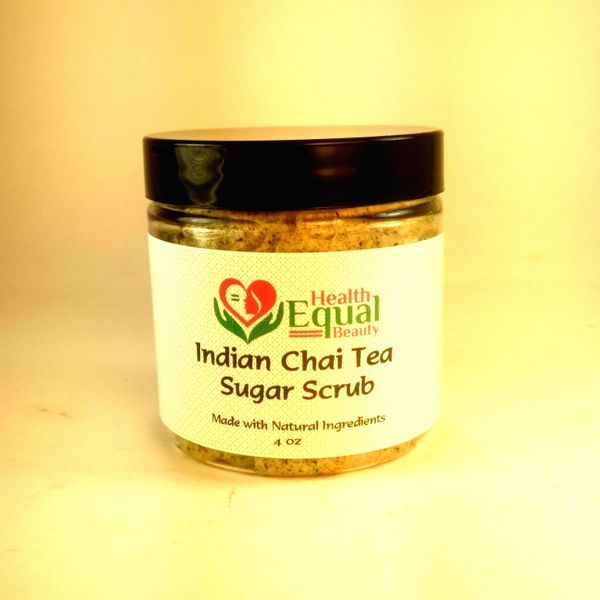 Indian Chai Tea Sugar Scrub
Welcome an an aromatic experience!
Our Indian Chai Tea Sugar Scrub is sure to have your skin glowing, your senses pleasured, and your body as smooth as silk.
This unique blend of herbs, spices, essential oils, and natural butters is a relaxing treat to anyone who enjoys Chai tea but for the body. 
In many cultures, chai simply means tea. It's delicious aroma  fills the air with a welcoming comfort and relaxation. 
Summer, Winter, and Fall are tough on our skin and cause it to look dull and become dry. Pamper your skin with this very gentle exfoliating body scrub.

It contains brown sugar to exfoliate while moisturizing with our unique combination of creamy Shea butter, coconut oil, sweet almond oil, avocado oil, and olive oil.
This scrubs offers you a luxurious bathing or hand-washing experience. Due to the natural herbs and stronger essential oils, we don't recommend using it as a facial scrub. 
We have formulated this scrub to be a creamy consistency without messy excess oil floating to the top. No need to stir or shake prior to use! Simply massage into wet skin after using your usual soap and rinse. Your skin will feel like silk. If you want an added moisturizer, follow with our whipped body butters for complete moisturizing experience.

Ingredients: Brown Sugar, Shea Butter, Coconut Oil, Fractionated Coconut Oil, Sweet Almond Oil, Avocado Oil, Olive Oil, Ingredients:

Brown Sugar, Shea Butter, Coconut Oil, Fractionated Coconut Oil, Sweet Almond Oil, Avocado Oil, Olive Oil, Black Tea, Cinnamon, Roasted Chickory, Ginger, Cloves, Cardamom, Nutmeg, Black Pepper, Chinese Stare Anise, Vanilla bean, Cinnamon, Sweet Orange, & Ginger Essential oils
Reviews