Intense Moisturizing Acne & Eczema Relief African Black Soap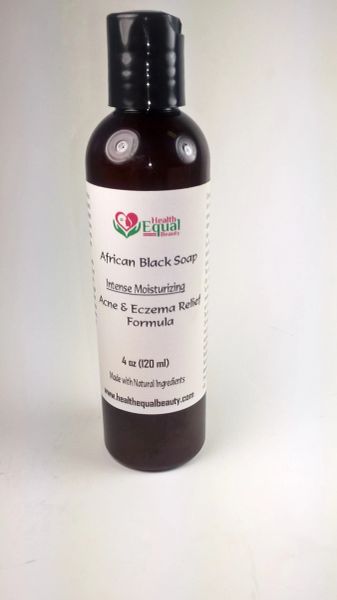 Intense Moisturizing Acne & Eczema Relief African Black Soap
African Black Soap 4.5 oz
Intense Moisturizing Acne & Eczema Relief Formula
This is our liquid and enhanced African Black soap made from the same ingredients that aid in the treatment of acne and eczema. 
Cleanse and moisturize with this blend of  nutrient rich all natural soap. This blend was formulated with those suffering from skin ailments such as Acne, Eczema, Psoriasis, and Itchy skin in mind. This soap can also be used as a shampoo and body wash.
Enhanced with:

 Aloe Vera juice to moisturize and heal skin. 
Tea tree provides an antifungal treatment.
 Lavender heals and reduces scars.
Lemon which clears complexions.  
Directions: 
For Face: apply a dime size amount to the palm, add water, lather and massage into your skin. 
For Skin: Apply the amount to a loofah or sponge and wash as usual.
This soap is suitable for Normal, dry , and oily skin. 
For Hair: Apply to wet hair and massage into the area working up a nice lather.
This soap has a shelf life up to 24 months. Shake before use to insure the mixture of the natural ingredients.
Ingredients: Distilled Water, Dried Plantain Skins, Palm Kernel Oil, Palm oil, Aloe Vera Juice, Sweet Almond oil, Argan oil, Vitamin E oil, Pure Tea Tree, Lavender, Lemon Essential oils.

Reviews