Oatmeal & Vitamin E soap 4.25 oz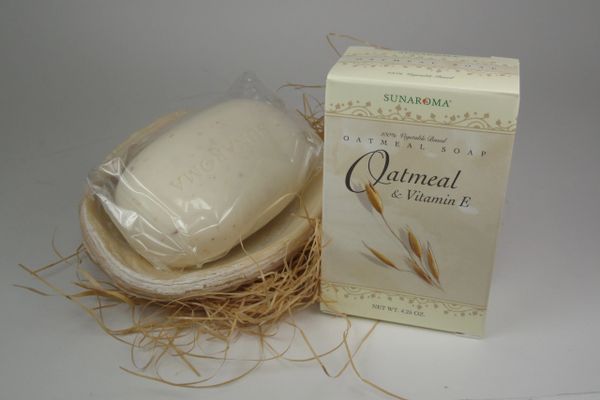 Oatmeal & Vitamin E soap 4.25 oz
This soap is a rare blend of Shea butter, Oatmeal, and Vitamin E. All of which are great products to use for the skin. This pure vegetable soap gently cleanses and moisturizes, while rejuvenating the skin with its natural anti-anging properties. Its fragrance is warm and pleasant.
Benefits: Oatmeal provides a gentle exfoliation, Shea butter is natural moisturizer that is vitamin rich and great for all skin types and especially those with sensitive skin, and Vitamin E has been known for centuries to provide healing while slowing down the aging of the skin! Combined these ingredients provide a healthy choice for those looking to pamper and keep their skin healthy.
Ingredients: Sodium palmate, Sodium cocoate, Water, Glycerin, Fragrance, Avena sativa (Oat) kernel meal, Avena sativa (Oat) meal extract, Triticun vulgare (Wheat) bran, Butyrospermum parkil (Shea butter), Fruit, Tocopheryl acetate, Coconut acid, Sodium chloride, Titanium dioxide, Pentasodium pentetate.

Reviews