Revitalizing Argan & Vitamin E Skincare Oil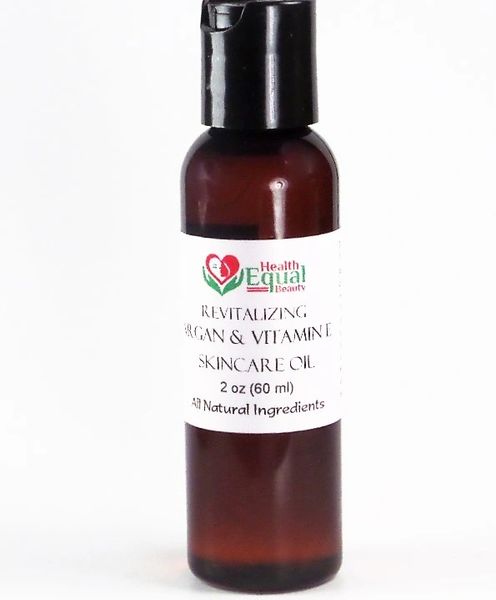 Revitalizing Argan & Vitamin E Skincare Oil
This Revitalizing Skincare oil is the perfect combination of Natural oils and Essential oils that are a must for a daily skincare regime. Complete with nutrient and vitamin rich oils that revitalize, rejuvenate and combat the aging process of skin that comes in the form of wrinkles, dryness, and pigmentation. Each ingredient was carefully chosen for the healing properties that they provide for all skin types. This formulation works on any area of the skin that needs daily care. 
Directions: Use a few drops twice a day or as needed. Rub into the desired area on the skin. A typical bottle should last between 12-16 weeks. 
Argan Oil:

"Liquid gold" High in Vitamin E and Linoleic acid which is a great acne fighter, rich in skin replenishing

 components, and slows down the aging process of skin. 

Great for scarring and Acne or Eczema sufferers.




Vitamin E:

Antioxidant, Helps with pigmentation issues, lightens dark spots, heals dry fingernails and cuticles




Safflower oil:  

Contains the highest level of Linoleic acid which fights acne. 

High in Vitamin E.

 

S

eals i

n moisture while improving the texture and tone of skin.




Grape seed oil: 

Anti-inflammatory and astringent which fights acne, tightens skins, moisturizes, minimizes wrinkles and fine lines.


Sweet Almond oil:

Reduces fine lines and wrinkles. 

Regular application can protect your skin from oxidative stress, UV radiation damage, dark circles under the eyes. Light weight and easily absorbs into skin, helps to keep skin soft and supple

Pomegranate Seed oil:

High in antioxidants and skin cell replenishing properties. High in P

unicic acid which is a strong anti-inflammatory, making this oil great for inflammation of the skin. 

Tea Tree:

Anti-fungal, Anti-bacterial, Anti-infection Heals rashes, Treats acne and other skin problems

Lavender:

Calming, antiseptic, antibacterial, painkilling properties. Reduces scarring.

Lemon:

Astringent qualities combats greasiness, can clear blisters

Sweet Orange:

Antiseptic, anti inflammatory, and astringent qualities.




Reviews