Tingling Acne & Pore Shrinking Detox Facial Mask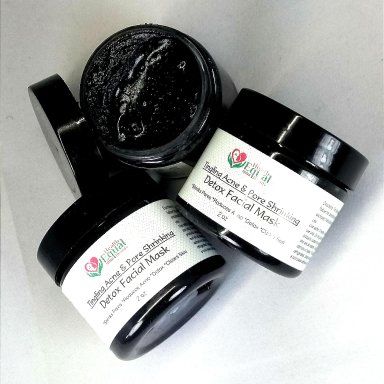 Tingling Acne & Pore Shrinking Detox Facial Mask
This is a power packed mask formulated to detox, cleanse, mildly exfoliate, heal, and clear acne prone skin. 
Benefits: This mask has a tingling earthy scent that immediately gets to work. It contains all natural ingredients that have proven results to reduce acne, dark spots, and heal irritated skin while shrinking pores. 
How to use: 
Take a teaspoon or tablespoon of the mask and apply it all over the face. Be careful not to get into the eyes. 
Allow the mask to dry for about 15 to 20 minutes. You will feel it dry and tighten your skin.
After the suggested amount of time, apply warm water and rub in. The mask will begin to foam a little if you remove with your hands while rubbing in a circular motion. (If you prefer, gently wash off with a clean washcloth)
Once you remove the mask, gently pat the skin dry with a clean towel.
Apply a moisturizer afterwords depending on your skin type. 
Dry skin: apply a oil such as avocado oil, sweet almond, jojoba, or a small amount of pure Unrefined Shea butter
Normal skin: apply a light oil such as Argan, very small amount of Unrefined Shea butter
Oily skin: You may not need a moisturizer, but if so, use a light oil such as Argan oil.
When to use: Use 1 to 2 times per week.
This 2 oz jar will yield between 5-8 mask or last between 4-6 weeks if used according to the directions.
Ingredients: African Black Soap paste, Bentonite clay, Rose Clay, Proprietary blend of oils and botanical extracts
Reviews