Value 3 Pack All Natural Deodorant Cream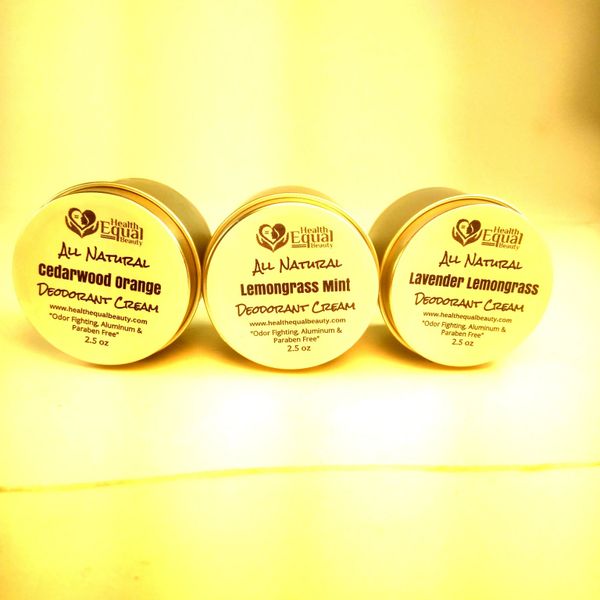 Value 3 Pack All Natural Deodorant Cream
BEST VALUE! GET ALL 3 of our Natural Deodorants and SAVE BIG!
- Lavender Lemongrass
- Lemongrass Mint
- Cedarwood Orange
Deodorant Cream
This natural deodorant is formulated to combat odor and to give it's users a safe nontoxic way to keep fresh in a daily personal hygiene regimen.
Formulated without baking soda this deodorant is great for those with sensitive skin. The active ingredients will keep it's users fresh throughout the day. This cream is soft and will keep your pits from becoming irritated from an abrasive texture.
Don't be afraid to sweat, because it is a natural way for our body to release toxins. You may sweat but will stay fresh with the active ingredients.
Directions
* With your finger, scoop out a pea size amount for each armpit.
* Rub into your skin, and get dressed as usual.
Apply as needed
Stay fresh all day!
For your Information…
If this is your first time using natural deodorant, please be advised that your armpits will need to detox from the use of chemical based deodorants. You can help the process by skipping application of your normal deodorant for 1-3 days prior to beginning your new use of our natural deodorant. Simply wash and apply Apple Cider Vinegar to help balance the PH of your pits.
Sweating is Normal!
Active Ingredients:
Arrowroot powder: Natural sweat absorbant and keeps skin soft and silky.
Bentonite Clay: Draws toxins from the skin and helps to open the pores.
Zinc Oxide: Due to its antibacterial properties, it can help with skin rashes and irritants from sweat production.
Ingredients
Unrefined Shea Butter, Coconut Oil, Beeswax Bentonite Clay, Zinc Oxide, Arrowroot Powder, Essential Oils
Reviews