Whipped Cocoa Sugar Scrub Set of 3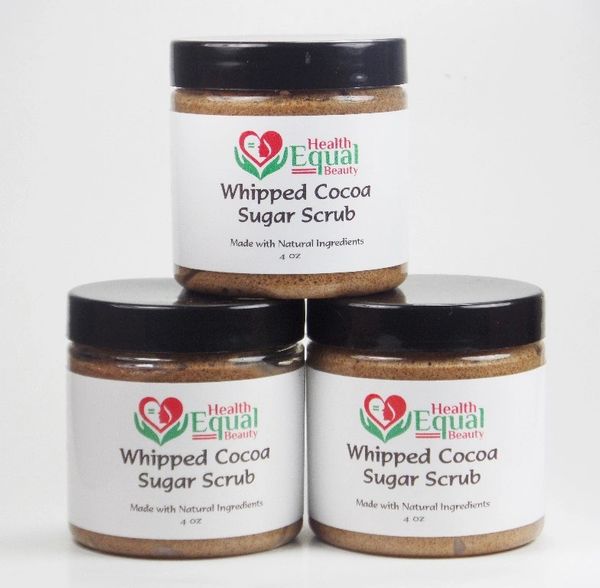 Whipped Cocoa Sugar Scrub Set of 3
Whipped Chocolate times 3!! Great value pack to enjoy or to share as a gift! Get 12 ounces of goodness!
Pamper your skin with this very gentle exfoliating body scrub. It is food for the skin It contains brown sugar and rich Coco powder to exfoliate while moisturizing with our unique combination of creamy Cocoa and Shea butter, coconut oil, sweet almond oil, avocado oil, and olive oil. Its delicious scent smells good enough to eat while the aroma of Pure Cocoa are relaxing and sweet giving you a luxurious bathing or handwashing experience. If using as a facial scrub we recommend once per week. We have formulated this scrub to be a creamy consistency without messy excess oil floating to the top. No need to stir or shake prior to use! Simply massage into wet skin after using your usual soap and rinse. Your skin will feel like silk. If you want an added moisturizer, follow with our whipped body butters for complete moisturizing experience. 
Cocoa Butter: Fades scars and moisturizes gently
Shea Butter: A natural Vitamin A & E moisturizer that absorbs easily without clogging your pores.
Sweet Almond, Avocado, Olive, Coconut oil: All Natural Vitamin rich and Great natural skin moisturizers that replenishes skin cells slows the aging process.

Ingredients: Brown Sugar, Cocoa Butter,Shea Butter, Pure Cocoa Powder, Coconut Oil, Fractionated Coconut Oil, Sweet Almond Oil, Avocado Oil, Olive Oil

Reviews