Whipped Mango Butter Vanilla Cream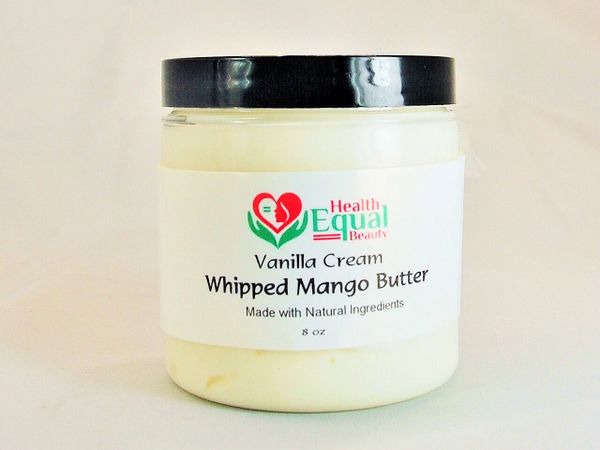 Whipped Mango Butter Vanilla Cream
This butter has one of the most relaxing and warm aromas.
The aroma is a soft blend of vanilla fragrance that is soothing and relaxing. It is an aroma that men and women alike can enjoy with out being overpowering.

What is Mango Butter?
Mango butter is a rich natural plant based fat that comes from the seed of the Mango fruit. It does not contain the same aroma as the flesh of the fruit in which many enjoy around the world.
What are the natural beneficial components?
It contains many nutrients and vitamins such as Oleic Acid, Stearic Acid, Palmitic Acid, Linoleic Acid, Arachidic Acid, Vitamin A, Vitamin C, and Vitamin E.
Why use our Whipped Mango Butter?
Our whipped mango butter is raw and purely natural. We gently whip it with only 2 natural oils. They are Safflower and Avocado which both contain some of the best benefits for hair and skin.
Benefits and Uses of Whipped Mango Butter:
It is a great butter for those with sensitive skin, dry hair, eczema, and those looking for a natural product that can be used for anyone and even babies.
Used topically, Mango Butter's long-lasting emollience nourishes skin and boosts its elasticity as well as its suppleness, thereby making skin look smoother and firmer.


Used in hair, Mango Butter seals in moisture and reduces breakage and hair loss by strengthening hair follicles, thereby encouraging the growth of stronger, healthier hair.


Used medicinally, Mango Butter facilitates the process of eliminating toxins, dirt, pollution, and other impurities from the skin. Its soothing quality makes it ideal for use on skin afflicted by itching, stinging, burning, and stretch marks.
Ingredients:
Raw Mango Butter, Safflower oil, Avocado oil, Fragrance
Reviews