Whipped Shea Butter 8 oz jar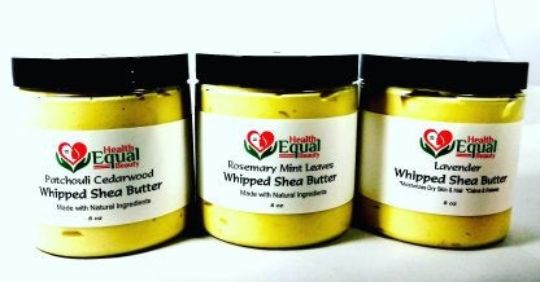 Whipped Shea Butter 8 oz jar
Whipped shea butter is easier to work with making it more spreadable on hair and skin than raw shea butter. We add coconut oil and sweet almond oil to the shea butter, and it's whipped to the consistency of cake frosting so that it's soft, smooth and easy to spread. This whipped Unrefined grade A Shea butter is an all natural Vitamin A cream. It  comes conveniently packed in a 8 oz jar.
For your added pleasure, add any of our listed Aromas!
| | |
| --- | --- |
| Our unrefined grade A Shea butter has not been bleached and maintains its natural pale yellow/beige color. It has also not been chemically processed in any way and therefore contains an extremely high level of healing and therapeutic factors. | |
Many people have reported an improvement in the following conditions with continual use of 100% Pure Unrefined Shea Butter:
Wrinkles , Stretch Marks, Overexposure to the Sun, Skin Rashes, Hair Breakage, Hair Moisturizer & Softener, Hair detangles, Curl definer, Hair sealant, Skin peeling & Skin Cracks, Muscle Aches & Tension, Blemishes, Severely Dry Skin or eczema, Diaper rash, Rough Elbows and Heels
How to use  Whipped Shea Butter
Start out by scooping a desired amount out of the container with your fingertips. Remember a little shea butter goes a long way! Rub and apply where needed. Apply to wet hair to seal in moisture or to define your natural curls. Apply directly after showering to lock in moisture on the skin. Use daily to condition and soften hair and skin.
For external use only.
Store in a cool dark place. Exposure to extreme heat will cause it to melt. Our premium grade A Shea butter will last up to 18 months or longer when stored properly.
Ingredients
100 % Pure Unrefined Shea Butter (Butyrospermum Parkii), Coconut oil, Sweet Almond Oil, (Fragrance Optional)
Reviews